---

Click on any picture below for full size image

Overview:
Probably one of the better known modified Toranas, my SLR 8000 Torana (Litre8) has been around since 1992 and, in that time, has been the recipient of many prestigious awards. The apparent popularity of the car is testament to the fact that people just love high-powered race bred style cars in Torana form.
This web site, with approximately 150+ photos and quite a bit of text, attempts to cover the car's history and development from purchase to present.
The list of awards and achievements that Litre8 has received over the years is fairly long (thirty six at last count) but here's a recap of some of the more significant ones:-

Top Engineered Street Machine at Summernats 5 (1991) and SummerNats 8 (1994)

Judge's Personal Choice at Summernats 8

Street Machine Magazine Top Ten at Summernats 5

Voted (by Street Machine Magazine) as one of the 20 most influential Australian Street Machines (1981-2001)

Top Engineered Street Machine, Hot Adelaide Show (Twice)

Top Engineered, Melbourne Custom Car Show

Cover of Street Machine Magazine (Four Times [Five if you have good eyesight!])

Entrants Choice - Modified LX, 2004 Torana Nationals

Cover, in-depth article and centre-page liftout in the July 2007 Xtreme Holdens magazine

Cover and article in 2011 Torana Performance Collection.

Reprint of the 1992 original Street Machine article in the November 2008 Holden Legends magazine (for those who came in late..)

Listed in the Top 20 Holdens (inside Top 10!) in the April 2011 Street Machine Magazine list of the Top 60 Street Machines ever.

Featured as a Legend (car not the owner!) plus Mill of the Month in May 2019 Street Machine Magazine.

Featured in Street Machine Magazine's LEGENDS Volume 1 book, August 2019.

Featured in Street Machine Magazine, September 2021, Litre8 Winton Track Day.
---

At Winton, May 2021

SM Magazine Video from Winton, May 2021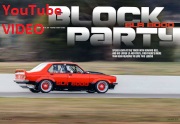 At Melbourne Performance Centre, 22nd August 2019

At Winton, January 2018

At Wakefield Park, June 2009

At Wakefield Park, May 2008


At Wakefield Park, November 2004 (Video courtesy of Pat)

More Wakefield Park, November 2004 (Pics courtesy of Brendon Thorne & Street Machine Magazine)

Enjoying the Torana Nationals in 2004 at HPDC, Queensland. (Pics courtesy of DJ and Luke, video courtesy of Kerri).

Enjoying the Canberra countryside - Summer Nationals 1992.


Driver training/testing day at Sandown (Pics courtesy of Rob)

Having a run at Phillip Island, mid 90's


Taking part in SM Magazine's '25years of Holdens' at Phillip Island in late 1994, not a great day. The dizzy broke the rotor, allowing it to spin freely on the shaft, putting a halt to the track activities. The upside was that it poured with rain later in the day when Lowndes was doing the laps in each car. He had a few moments and spins so I was almost glad mine was on the trailer. I completed the photo session with SM magazine at that year's Summernats where we went to Canberra's drag strip to get the 'smokin' photos. The mint XU-1 parked in front was Leon O'Brien's, a brilliant restoration (used a poor man's rotisserie to do the full shell preparation, lead only wiping was used) running a Tate built 202. This car had a few offs during the wet Lowndes session, it really was bucketing down. I think Leon had to change his underwear after those laps. There are some pics of Leon's car here and here. To the surprise of many Leon sold the car not long afterwards (to somewhere in WA) and he is now an FE and grey motor devotee.


Enjoying Northbourne Avenue and the parklands at the Summernats in Canberra, when this activity was still legal!
---

Original sales invoice for the car

---
© Litre8 Productions 2021