hr
---

Click on any picture below for full size image, click on any image above for more info.

Introduction:
Anyway, let's review the happenings of Litre8 from inception to present. The first public appearance was at the December 1991 Summernats. This was the usual car project story: finished putting panels back on the car the night before leaving for the Summernats after just over a 21/2 year build. The car had only been driven on and off the trailer at this point so I was fortunate that the only problem suffered when cruising Canberra on Northbourne Ave (back when it was an acceptable pastime) was a battery charging problem. The charging warning light I had installed for the alternator lacked the resistance to kick in the alternator charging so it was a nightly task to put on the battery charger. All in all the Summernats was fairly painless and the cruising was excellent.
Subsequent changes involved upgrading the brakes to their current hardware, a different grind roller cam (more lift and duration but still milder than the current), curing a mysterious dry sump pump leak by ditching the mechanical fuel pump (the seal had ruptured allowing a small amount of oil to be pumped out onto the dry sump pump, giving the impression that the pump itself was leaking at the section joins!), putting in a full-floater rear end (massive reduction in brake pad knock off after cornering!) and band-aiding the DNE 5 speed to stop it jumping out of 3rd gear under power (back cutting the engagement dogs, this worked for a while.. see the details below..).

Back in '96 Litre8 suffered mechanical failure of the gearbox kind when it's Doug Nash called timeout in a big way (3rd driven gear lost 5 teeth and wasn't happy). This occurred at Phillip Island on a beautiful sunny day on the 3rd lap of the morning's session. I found that it had jumped out of 3rd (again...) but this time there were serious mechanical cries for help coming from the gearbox. I managed to get back to the pits and get it on the trailer. It was only when I got home and drained the oil that some broken off teeth were discovered. Subsequent detailed examination showed that the gearbox main shaft was flexing and, with third gear about mid way between the two support bearings, it was just a question of time. It was clear that the Doug Nash just couldn't cut it so it was pointless to repair it and put it back into this environment. Better to repair it, sell it into a less demanding environment and then seek out a better solution. Below are two pics of the damaged driven gear, the drive gear appeared okay but did incur some hairline cracks so both were replaced in the rebuild.
Being busy work-wise meant it took some time (and lots of faxes and late night phone calls to the US) before a replacement gearbox was sourced. A few gearboxes were considered, including a Holinger, Saenz, T56 and a G-Force but the final choice went to an impressively rugged box; a Magnesium cased Jerico 5 speed, dog-engagement with straight cut gears. Whilst these changes were in progress, the temptation to up the HP ante was just too much so I started thinking that a new set of Edelbrock aluminium heads would be good (they had just been released for Big Blocks). Never one to succumb to the mild (nothing exceeds like excess..) I made sure they got the full port flow bench treatment as well as 2.3" intakes / 1.92" exhausts and chamber work. Now they flow close to Bowtie heads but with much better port velocity. Tom Coad, ex-Les Small and the man responsible for the head work that gave Gricey the goods with the Chikadee Commodore at Bathurst in 1986, was responsible for the significant flow improvement gained with the head work (intake and exhaust picked up 20+% flow over the previous 'C' port heads).
About this time my work got the better of my time and effort (working in Sydney but 'living' in Melbourne for 12 months before relocating fully to Sydney) so Litre8 sat in storage for some time again. Eventually, with a new gearbox and heads (and a new roller cam to take advantage of the new head potential, here's a pic of the old roller cam), it was time to find someone to put the engine together and dyno it. After some calling around I got in touch with Neil Burns (ex- HDT, PERKINS, RED, Team Brock I). Neil agreed to do the job but he was pretty busy with V8 Supercar commitments and speedway work so it wasn't going to happen overnight. With those details sorted out it was also time to get the necessary transmission tunnel modifications done to accept the Jerico gearbox. Luckily the same clutch and bell housing could be used (a definite factor in the box choice...). About that time I noticed that the current headers were cactus so I tracked down Craig (of Pro Pipes & Race Cars) who built a new set of pipes (and upped the primary diameter from 2" to 21/8").

After a few hiccups with header fit (the dry sump pan was a work-in-progress and some fitting's locations were changed during the pipes creation), the new dry-sump oil pan was installed and the engine was ready to wrestle the engine dyno. The planned dyno work at MoTeC was delayed as they were about to relocate premises but eventually late last year (2002) it all happened and the final numbers read 727hp at 6500rpm and 695ft/lb torque at 5150rpm. While the cross-ram manifold may have contributed to a slightly less than anticipated HP number, the abundance of torque produced by the long runners (above 500 ft/lbs from 3300rpm to 7000rpm, more than 600 ft/lbs from 4100rpm to 6300rpm, 75% of maximum torque available from 3400rpm to 7000rpm) will ensure some exciting afternoons at Eastern Creek and Wakefield Park. I don't think I will bother taking it off the trailer if it even looks damp.
Interestingly, the actual numbers came up just 20hp and 10ft/lb torque shy of those predicted by the Dyno2000 engine analyser (and at close to the actual rpm points). Now dyno'd, the new headers have now been HPC coated and the final assembly of engine/gearbox into car has taken place along with the re-plumbing of the dry-sump lines and fuel lines.
One aspect people used to always ask was whether the car was roadworthy. When I lived in Victoria this was less of issue as there were no annual roadworthy checks, just pay the annual registration fee and hope you didn't get pulled over by the police. So my answer to the roadworthy issue was always 'the car is currently registered', knowing that there wasn't a snowball's chance in hell of it being approved in its current form. Registration was maintained to satisfy the requirements of many car shows that required current registration for entry. These days that doesn't really concern me as I have 'been there, done that' for those shows, nowadays its just a few selected shows per year that I intend to enter. Regardless the registration was dropped once I moved to NSW as by then the fine for being caught using leaded avgas on the street was upwards of $1000. I own the LITRE8 plates so there didn't seem much point in contributing to the governments finances just for the heck of it. My main issue was whether the car was safe on the circuit, and every effort was made during the construction to ensure that it was with respect to braking, handling and safety. The engineers I used to perform almost all of the work are/were open wheel or drag racers so they knew the importance of build quality and engineering. This mattered to me much more than the stamp of a roadworthy certificate.
This bring us to July 2003 when Litre8 came home to Sydney after a long hibernation documented above. See below for updates since that homecoming, most recent updates shown first.
Litre8 journeyed to Winton Raceway for a shakedown run, the first track time since January 2018 due to a combination of engine rebuild and then Covid restrictions. While the track time was cut short by a failed hydraulic pressure line for the McLeod clutch throwout bearing we were able to get about 7 'sighting' laps and an abundance of torque on tap was readily available. All was kept around 5000rpm max and about 2/3rds throttle, still enough to get sideways in 3rd gear. See Track, Cruising & Dyno for a few video snips.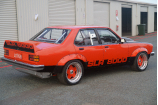 Update: 26th August 2019
Litre8 journeyed to Melbourne Performance Centre to get the new engine run-in and then dyno tuned (Ignition and Fuel curves). The dyno chart is available here.
Update: 22nd January 2019
The installation is progressing! You can follow the progress via this link
Update: 14th December 2018
The engine rebuild is complete and it is now back home. Now starts the installation process that will involve some header rework and replacement of 28 year old subframe bushings. I expect it to take a few months of weekend effort before it is ready for track/show action.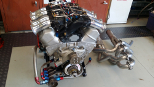 Update: 1st Novemmber 2018
The engine rebuild is making progress with the long motor almost together. The final engine specifications have been updated in the Engine Details section. I have some engine bay cleanup tasks to do and I have also replaced the 28 year old braided lines for both oil and fuel as a safety precaution. Due to the new cylinder head's raised exhaust ports I will need to wield the MIG and do some work on the extractors to ensure they line up correctly. So I still have a few months worth of effort yet before we turn a wheel under power. I have sold the old Crower crankshaft, Crower Conrods and the CompCams Stud Girdle which helps finance this rebuild. The old Edelbrock heads will also be up for grabs in the near future along with some other sundry parts like the Lunati TLR2 roller camshaft, TCI harmonic balancer and the Crower Rev Kit. So what are all the changes? Follow this link to a PDF document covering the latest specifications with changes since the SummerNats 5 (1991) debut highlighted.
Update: 4th May 2018
The post-mortem from the track day in January escalated from a mere coolant leak to a cracked cylinder head and some damaged pistons. Unsure if the piston damage (a missing section from the top ring land for 4 pistons) was done at the track session or perhaps earlier. The day was 39c so a candidate for the damage is pre-ignition. Regardless a major rebuild of the KB engine is scheduled (and in progress). As with most projects this will not just be a basic restoration. For the effort involved in removing/installing of the engine we will be making some upgrades. We are retaining the KB block and Kinsler intake manifold but adding new pistons (naturally), new conrods, new camshaft (upgraded specs from current camshaft and with 4/7 swap), new crankshaft, new cylinder heads and a new harmonic balancer. All this adds up to 564 cubic inches and likely around 900 horsepower with similar value torque. This will progress over the remainder of this year. While it will no longer be LITRE8 in its capacity (it will actually be 9.243 litres) the LITRE8 number plates and SLR8000 body stencils will remain, true to the car's 28 year origins as a KB 479ci BBC. Updates to the Engine Details section will occur when we firm up the components.
Update: 19th January 2018
Finally got some track time with Litre8 at Winton Circuit in Victoria. Along with great mate Damian (lightweight LJ Sports Sedan with 400hp alloy headed 202!) we enjoyed 20+ laps on what was a very hot day (39+c). L8 needs some mixture tuning (a bit rich on acceleration), a little less rear brake bias (easily done with Tilton dash adjuster) and remedy a valley gasket leak (most bolts a bit loose on subsequent examination) which resulted in some oil smoke on down shift. But overall a great day. The latest camshaft worked very well and the car was pretty impressive under acceleration and braking, handling just needs some sorting. You will find an MP4 link under 'Track & Cruising' in the main index.
Update: 7th January 2017
A few updates to Litre8 over the last 6 months. New Lunati TLR camshaft (see Engine details for specs), new Fuelab billet fuel filters and a Wideband A/F guage combined with a Bosch LSU 4.9 sensor. I have also been doing some re-configuration of the MoTeC M48 settings/properties via a recently acquired secondhand Dell XP laptop. My old (ancient these days) MoTeC M48 will only talk to RS232 ports ( and converters to USB not that great), necessitating the purchase of a laptop with an RS232 port (a $160 laptop seemed a better proposition than about $2000 for an M48 upgrade plus maybe new loom). Some fairly strange settings on the injection timing, fuel etc were apparent but with the WideBand A/F guage I hope to sort this out once I get out to have a play.
Update: 19th May 2015
Litre8 has a new bed and pretty much sole use of its dedicated home in the outer eastern Melbourne suburbs.

Update: 17th May 2014

Relocated back to Melbourne and picked up my new daily driver/tow car during the week, HSV VF Clubsport R8. See here

for a few pics.

Update: 23rd July 2011

Attended MotorEx show at the invitation of Street Machine Magazine to celebrate their milestone of 30 years. See SHOWS for a few pics from the show. Focus is now on ToranaFest in September!

Update: 10th October 2010

Picked up my new daily driver/tow car during the week, HSV Clubsport GXP E2. See here for a few pics.

Update: 27th September 2010

2010 ToranaFest has come and gone, brilliant event as always, final numbers were about 275 Toranas on display.

Update: 3rd September 2010

I have now updated the exhaust system (collectors back). The car is now running a dual 3.5" system with a 2.5" H balance pipe, 'token' 3.5" in/out mufflers and terminates just before the diff. The job was done by Castle Hill Exhaust and I found their job excellent. Exhaust note definately sounds better! Focus is now on 2010 ToranaFest, only a few weeks away now on the 19th September at the Newcastle foreshore. Expect to see at least 260+ Toranas on display. It will be massive.

Update: 28th June 2010

Completed some suspension upgrades on L8. New upper and lower ball joints (Moog) and new TRW rod ends. I also upgraded front springs to King Springs (1140 lb/in) and Nolathane bushed engine mounts. The suspension upgrades went relatively smoothly but, with the big exhaust primaries and the physical size of the engine block, just getting the old engine mounts required some deft cutting with the angle grinder. The new engine mounts, being physically much smaller, went in a lot easier.

Update: 20th May 2010

Another journey down to Wakefield Park for a bit of a play. Cold but dry and manageable car numbers. Got in about 5 sessions but was hampered by a failing Mallory EFI priming pump causing fuel pressure to fluctuate between 2 and 5 bar. Subsequently replaced the pump with a JEGS ethanol blend compatable 130gph unit.

Update: 20th September 2009

This event just keeps getting better. Approximately 250 Toranas made the trek to Newcastle foreshore for the biggest and best ToranaFest yet on Sunday the 20th September. I have said it before but this event just keeps getting bigger and better every year and is certainly a must do for anyone owning or interested in Toranas.

Update: 26th June 2009

Made the journey down to Wakefield Park for a bit of a play. The usual skill challenged drivers managed to regularly drag mud onto the track due to their inability to actually turn corners. The grub screw on the side of the shifter decided to bail out resulting in a shortened session. Problem solved in 30 minutes once I got back home.

Update: 26th September 2008

About 227 Toranas of all flavours populated the Newcastle foreshore for the biggest and best ToranaFest yet on Sunday the 21st September. This event just keeps getting bigger and better every year and is certainly a must do for anyone owning or interested in Toranas.

Update: 31st May 2008

About 15+ Toranas were at Wakefield Park on Thursday 29th May for a play on the circuit with members from the Sydney Torana Club and GMH-TORANA forums bringing their cars along for some exercise. A great day was had and a short (in time but large in size) in car AVI video is available under the 'Track & Cruising' selection on the main index.

Litre8 will be at Wakefield Park on Thursday 29th May for a play on the circuit along with members from the Sydney Torana Club and GMH-TORANA forums.

Update: 1st September 2007

Litre8 will be at the ACT All Holden Day (on the lawns of the old Parliament House) on the 9th September and at Toranafest (Newcastle foreshore) on the 16th September

Update: 22nd June 2007

Litre8 will be at this year's Meguiars MotorEx show at Sydney Showground, Sydney Olympic Park, 30th June/1st July.

Update: 19th April 2007

Litre8 had a studio photo session (first ever) yesterday for Xtreme Holdens magazine. There will be a cover shot plus fairly indepth article and photos. The magazine is expected out mid-late June.

Update: 26th June 2006

Added a link from 'General' to Photobucket where scanned images of all the magazine articles mentioning Litre8 have been placed. The image name details when/which magazine is involved.

Update: 29th August 2005

The 2005 ToranaFest is fast approaching, 18th September on the Newcastle foreshore, expecting about 70+ Toranas to attend, always a good show. The old (very old) tortured Pirelli P700Z's are about to be retired and replaced by a set of 265/622 Dunlop radial slicks. Just have to decide if I put these on before or after the planned chassis dyno session. This will be with the new JFP Racing 100 unleaded racing fuel which does contain a small % of methanol so the sorting session is really a must.

Update: 16th April 2005

The new aluminium injection ram tubes for the Kinsler manifold are now complete and fitted. Some minor rework of the hydraulic clutch plumbing is required and this will be done shortly. The plan is to follow up on the chassis dyno session in the coming weeks.

Update: 13th March 2005

The new aluminium injection ram tubes for the Kinsler manifold are in progress. Dimensionally the same as the original ram tubes, these will have a 20 degree bend (allowing the bonnet to close) and run parallel to the rocker cover. This will allow them to be run on the circuit (with appropriate foam filters) in place of the restrictive fabricated steel air boxes. A session on the chassis dyno will be needed afterwards to re-configure the fuel curve before a track tryout. I have yet to locate anyone in Sydney that has both a chassis dyno and experience with a MoTeC M48.

Update: 29th November 2004

The track day at Wakefield Park went exceptionally well! Though quite warm (about 31-33c) it was a great experience driving L8 in anger after such a long time. Having 12 year old tyres made the handling quite exciting and it was quite evident that use of the accelerator should limited unless the front wheels were pointing straight ahead. Wakefield Park is a very tight circuit with some very challenging corners, particularly the 120 degree infield hook. The main straight is fairy short with about a 130 degree entry corner onto the straight. The straight itself has a slight kink before heading into a 90 degree right hander. With the dubious old tyres I was backing off quite early, just at the start finish line (still a distance from the kink) so terminal velocity was only about 195kph. They say brave people take the kink flat out, I sure wasn't that brave! In fact I was only using 2nd and 3rd for the whole lap (mainly 2nd). Since the pretence of doing this circuit day was to get familiar with the Jerico gearbox I did do a few relaxed laps shifting up to 4th and 5th on the straight. The brakes coped well, after about 45 laps I had consumed about 1/16" of pad material, so there is still approximately 1/2" of pad material remaining. The discs now have a black lustre about them (from the Hawk Brake Black pads). I managed to keep the car on the blacktop all day while others tended to explore (and exceed) their car's limits (some on a regular basis). We had about six Toranas at the circuit with a variety of models and powerplants (LJ XU1 club car, Hilborn Injected LX sedan, LT5 powered hatchback and a venerable SLR5000). Apart from one car having a water pump replaced at the circuit all the rest completed the day without any mechanical ailments though a couple were marginal on cooling. Icing on the cake was the presence of some guys from Street Machine Magazine who took quite an interest in the LT5 hatchback and the Hilborn injected LX. Expect to see some track shots and features on these cars in upcoming issues of Street Machine Magazine (and maybe even a track shot of old L8!). On the Litre8 Home page there are some pictures from Wakefield as well as a short video (taken with digital camera) of Litre8 doing about 2 laps.

Update: 11th November 2004

Finally completed the gearbox oil cooler and pump installation. The first Tilton pump I tried was a dud but the replacement works okay though by nature it is quite noisy (at least with the engine not running). I will get down to Wakefield Park on Monday 29th November for a bit of quality track manners re-familiarisation time with Litre8. Eastern Creek was another option but I think Wakefield is probably better suited for my purposes this time. Eastern Creek will certainly be tried at a later date. Prior to that The Sydney Torana Club is having a show for the McHappy Day charity fundraising on the 20th November at McGrath's Hill McDonalds.

Update: 20th August 2004

Another change of hosting for this site! With the demise of http://v8holdens.coms as a domain host this site now has a permanent, dedicated web site http://www.litre8.com I don't expect to have to change this again.

Update: 20th July 2004

Almost completed fitting and plumbing the gearbox oil pump and cooler. Space constraints have dictated the location for both the pump and cooler to be the boot along with the current engine oil cooler and dry sump tank. I hope to have this done with a few weeks, overseas work trip(s) permitting. The next items to tackle (and its getting close to the end of the list now!) are the new injection trumpets & filters (the trumpets will have a 20 degree droop to run parallel to the rocker covers and clear the bonnet), possibly new dual 4" exhaust with 3" crossover (its a bit quiet currently, I plan to use Dynomax mufflers and terminate before rear axle with 60 degree bends) and, finally, a chassis dyno session (or track session with MoTeC Logging and lambda sensor in place) to fine tune the M48. When all this is done I think Litre8 will be almost complete......

Update: 12th April 2004

Well the 2004 Torana Nationals have concluded. It was a great Torana only 'rice-free' environment with 130+ Toranas of all flavours and heritages on display. Included in this was a massive 31 A9X's! Bowden's had their impressive Torana collection on display along with many other multi-Torana owners.

It was real enthusiast and entrant event at which I am sure all who attended would have had an enjoyable time. The venue at HPDC in Qld was great with ideal display and cruising facilities.

Update: 27th September 2003

Well the 2003 Toranafest has been and gone. It was a great event with seventy-eight Toranas making the pilgrimage to the Newcastle foreshore. For the trip up we had a convoy of twenty Sydney Torana Club Toranas which was a great sight in itself. The show was blessed with great weather in the morning and few passing showers in the afternoon. It was great to catch with lots of Torana owners, especially the guys from the VTC as well as many of the faces associated with the Gmh-Torana forums. I was pleased with the reception given to Litre8 as, after seven years in hibernation, I wasn't sure that she would still make an impact in a car scene where things have progressed a long way in engineering and sophistication.

Update: 6th September 2003

This site is now hosted by v8holdens.com at litre8.v8holdens.com. This makes it not only easier to find but allows more room to add in more pictures etc. Additionally the V8Holdens website, though new, is a very trick looking site and is manned by some real keen (and real young) car enthusiasts. The site at ozemail will remain but, due to space restrictions, wont be expanded nor updated.

Update: 17th July 2003

After a few test laps around the block at AMRaceparts the car was taken down to MoTeC for a lambda check and some data logging. This was delayed by a dud starter drive sprag assembly but we finally managed to do some "interesting" cruises of the local streets with the logging enabled. Apart from the fact that we were unable to get any full throttle under load readings the sampling did show a few overly rich points in the mapping which were addressed. Then it was time for a quick wash (probably the first in 3 or 4 years) and then back on the trailer for the trip home to NSW. A pleasant run back to Sydney ensued and now the car is resting comfortably in the garage, ready from some intensive cleaning and restoration. The major target is to have everything complete and the toy back to its best for the Torana Nationals in Easter 2004!

Refer to the History section for a more detailed history from 1976 onwards..
---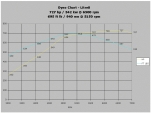 ---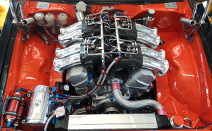 Engine:
Capacity:
- 564 Cubic Inches (Approximately 9.24 litres) - 1991 (MkI) incarnation was 479 Cubic Inches
Block:
- Keith Black KB500 Aluminium BB Chev (4.53" Bore), Steel Liners, Mains and Head Stud Kit, Five Cylinder Head Studs per Cylinder, Stainless Steel Lifter Valley Screens, Tuff Mounts Polyurethane Bushed Engine Mounts

Crankshaft:
- Manley Crankshaft Forged 4340 Steel (4.375" Stroke), Magnafluxed, Nitride Heat Treated, Large Fillet Radii, Internally Balanced, 8 Counterweights, ATI 8" Super Damper Harmonic Balancer, Hard Anodised Gilmer Drive (Dry Sump Pump, Water Pump, Alternator), Neutral Balanced
Conrods:
- Molnar Conrods Billet H-Beam 4340 Steel (6.48", Std +.345"), ARP 2000 Rod Bolts (200,000psi)
Pistons:
- JE Pistons Forged Lightweight FSR, 1.120" Comp Height, Fully Floating, Double Spiro locks, Total Seal Gapless 440B Stainless Steel Rings C33 (Chrome Nitride) Face Coated (1.0mm, 0.043", 3.0mm), 13:1 Compression, Tool Steel Piston Pins, 42cc Dome, Lateral Gas Ports
Camshaft:
- Howard Cams Custom Steel Billet Mechanical Roller (.765"/.765", 265/269 @ .050" Intake/Exhaust, 109 LSA), 4/7 Swap, Trend One-piece Centreless-ground 4130 Chrome Molybdenum Pushrods (.136" wall x 3/8" diameter), Keith Black Gear Drive, Howards ProMax Direct Lube Mechanical Roller Lifters (+.300").
Flywheel:
- 28lb McLeod Steel, 101/2" Disc, Internally Balanced, 153 Tooth
Lubrication:
- Modified Jenkin Bros 'Deep Throat' (3 Scavenge, 1 Pressure), Gilmer Drive, Serck 44 Row Oil Cooler with Dedicated Thermatic Fan ,Fabricated Dry Sump by AM Raceparts (Features Triple Scavenge Pickups &amp Windage Tray), Boot Located 14 Litre Oil Tank, Remote K&N HP-5001 Nascar Oil Filter, Stainless Steel Pre-Scavenge Pump Filters, Dash 12/16 AN Fittings & Stainless Steel Braided Oil Lines, Joe Gibbs Racing DRIVEN XP6 15w/50 Racing Synthetic Oil, Moroso Billet Oil Filter Bypass Plate, Hamburger's Billet Remote Oil Filter Base
Exhaust:
- 21/8"x 37" Primaries, 4" Collectors, HPC Coated (internally and externally), Dual 3.5" with 2.5" 'H' Balance Pipe, Custom Stainless Steel Filled Racing Mufflers
Cooling:
- 6 Row Crossflow with Recovery Tank, Dual Thermatic Fans, Edelbrock Victor Water Pump, EMP Stewart High Flow 72c Thermostat
Heads:
- AFR 335 CNC V2 Aluminium, (flow 940+hp), Open Chamber (120cc chamber), Ferrea F1224P Competition Plus 2.30" Intake, Ferrea F1270P Super Alloy 1.90" Exhaust, Crower Enduro Stainless Steel Roller Rockers(1.7:1), AFR Aluminium Stud Girdle, Isky Super 7 Titanium Retainers, Isky Chrome-Moly Spring Seat Locators, Isky Super 7 Chrome-Moly Valve Stem Locks, Isky RAD-9000 Tool Room Roller Springs (Intake: 250/735lbs closed/open, Exhaust: 250/735 lbs closed/open), Cometic Nitrile Valve Stem Seals, CompCams Guide Plates, ARP Rocker Studs
| | | | |
| --- | --- | --- | --- |
| Lift " | Intake flow @ 28" | Exhaust flow @ 28" | Exhaust/Intake % |
| 0.1 | 100 | 80 | 80 |
| 0.2 | 164 | 142 | 87 |
| 0.3 | 240 | 193 | 80 |
| 0.4 | 304 | 244 | 79 |
| 0.5 | 352 | 278 | 79 |
| 0.6 | 385 | 310 | 81 |
| 0.7 | 404 | 321 | 79 |
| 0.75 | 408 | 324 | 79 |


Fuel system:
- MoTeC M48 Sequential Electronic Direct Port Fuel Injection using Kinsler Cross-Ram Port Injector Manifold (8 x 2.68" [69mm] B/flys), Alloy 120 litre tank (Brown Davis), Dash 6/10 AN Fittings and Stainless Steel Braided Lines, Dual Bosch Motorsport Fuel Injection Pumps with Oberg 28 Micron Pre-pump S/Steel Filter, Dual FueLab Billet 6 Micron Post-pump Filters, Aeroflow 140 GPH Priming Fuel Pump, AeroMotive Billet Adjustable Pressure Regulator (5 Bar), Marren Hydraulic Pulsation Damper, PowerPlus 105+ Racing Unleaded Fuel + VP M2 Additive + Star Tron Fuel Stabiliser, Bosch Motorsport 351 Injectors (160hp,940cc/min@5Bar)
Electrical system:
- 80amp Chromed Alternator, Gilmer drive, Castle Auto 2.5hp Hi-torque Starter Motor, 900cca Optima Dry Cell Battery (Boot Mounted)
Ignition system:
- Scorcher Distributor (Narrow Tooth Trigger), MoTeC Single Channel CDI, Crane PS92N Coil, NGK R5671A-10 Racing Spark Plugs, 8mm Magnecor Leads
Bearings:
- Calico (Clevite) CT-1 Coated Bearings
Assembled:
- Engine assembly (1990 MKI & 2018 MKIII) by Nankervis Performance Boats P/L
- Engine assembly (2000 MKII) by Neil Burns Developments
- Chassis Dyno Tuning (2019) by Melbource Performance Centre
Details:
Horsepower:
- 886 hp/664 kw (Flywheel) at 6560 rpm
- 864 ft lbs/1172 nm torque at 4370 rpm
- Additional 250 bhp for Nitrous (may invalidate life insurance policies)
Max RPM:
- 7000rpm Sprint / 6500rpm Endurance
Ancillaries:
- Nitrous Oxide - NOS Fogger (Direct Port)
Theoretical Performance
| | | | |
| --- | --- | --- | --- |
| First | 2.643:1 | 124kph@7000rpm | 78mph@7000rpm |
| Second | 1.933:1 | 170kph@7000rpm | 106mph@7000rpm |
| Third | 1.460:1 | 221kph@6900rpm | 138mph@6900rpm |
| Fourth | 1.208:1 | 266kph@6850rpm | 166mph@6850rpm |
| Fifth | 1.0:1 | 319kph@6800rpm | 200mph@6800rpm |

Brakes:
Tilton Dashboard Adjustable Balance Bar, Dual Alcon Master Cylinders (13/16" & 7/8" front/rear), Adjustable Rear Bias
Front:
- 131/2"x11/4" (343mm x 32mm) Harrop Engineering Ventilated Disc with TWR/AP Billet 4 Piston Calipers (Staggered Titanium Pistons 15/8"x13/4", Titanium Guide Plates)
- Billet Aluminium Radial Mount Caliper Adaptors with Hi-Tensile Studs & Double-hex Nuts
- Gold Anodised Aluminium Adaptor Hats
- ADR Compliant Stainless Steel Braided/Tube Steel Brake Lines
- Ferodo DS3000 Pads

Rear:
- 121/2"x11/10" (318mm x 28mm) Harrop Engineering Ventilated Disc with TWR/AP Billet 4 Piston Calipers (Staggered Titanium Pistons 11/2" & 13/4", Titanium Guide Plates)
- Billet Aluminium Radial Mount Calliper Adaptors with Hi-Tensile Studs & Double-hex Nuts
- Gold Anodised Aluminium Adaptor Hats
- ADR Compliant Stainless Steel Braided/Tube Steel Brake Lines
- Ferodo DS3000 Pads

Front:
- White Line Custom Front Mount Stabiliser Bar (27mm) With Heim Joint Drop Links
- Bilstein Shock Absorbers [6380289H003]
- King Springs KBFS-01 (1140 lb/in)
- A9X Upper Control Arms (lowered mounting points on crossmember)
- A9X Steering Arms
- A9X Stub Axles (..595/..596 - Bearing Spacers by Motorsport Engineering Services))
- 30 Negative Camber
- 30 Positive Castor
- 1/16" Toe-out
- Superpro Polyurethane Bushings on Upper & Lower Control Arms
- Superpro Polyurethane Bushings on Steering Rack Mounts
- Nolathane Polyurethane K-Frame Bushings
- Nolathane Polyurethane Outrigger Bushings
- Moog Upper and Lower Ball Joints (K5108 & K5103)

Rear:
- K-Mac Competition Rear Mount Stabilizer Bar (21mm) With Heim Joint Drop Links, Nolathane Polyurethane Bushes
- Custom Chrome Moly Panhard Rod and Mounts (Heim Joints)
- K-Mac Competition Variable Rate L34 Springs (450 lb/in)
- Bilstein Shock Absorbers [5110319H004]
- McDonald Bros Adjustable Lower and Upper Trailing Arms With SuperPro Polyurethane Bushings
- AXISTR Power Steering Conversion (Modified Subaru Rack)
- Astra TS Electric Power Steering Pump (Boot Located)
- Derale Compact Power Steering Fluid Cooler (Boot Located)
- Dash 6/8 AN Fittings & Stainless Steel Braided Lines


- Front Rails Inner Lip Trimmed
- Front Rails Stitch Welded with Plasma Cut 3mm Steel Plate
- Front Rails Internally Braced
- RHS (3" x 2") Stitch Welded Inside Subframe (Front Outrigger Pickup to Lower Rear Suspension Pickup)
- RHS (3" x 2") Welded Subframe Connector (Incorporating Tailshaft Strap)
- Firewall Lip Radiused for Distributor Clearance
- Steel Rollcage Extensions from Parcel Shelf to Rear of Boot, Reversed Braced to Box Section Welded Between Wheel Wells
Corner Weights(kg): RF- 440, LF- 430, RR- 337, LR- 350 (56/44 front/rear bias)

Total Weight (incl Coolant, Oil and 20L Fuel): 1557 kg (3425lb)
Approximate Standard SLR 5000 Weight: 1320 kg (2906 lbs)
Wheels:
- 17" x 10" Customised Compomotive Composite TS (3 Piece, 5 spoke, body colour matched centre)
Tyres:
- 265/625 Dunlop D11 Slicks

Colour:
- Body - Mandarin Red, Trim - Tuxedo Black (original), Midnight Black (current)
- SLR 8000 Stencils
General Care: Autoglym
- Paint (wash, polish, wax, protect, show detailing)
- Glass
- Chrome
- Wheels
- Rubber & Vinyl protection

Aluminium Care: Lucas Oil Metal Polish
Front spoiler:
- L34 type, A9X brake ducts
Rear spoiler:
- Standard SLR5000
Scheel Front Seats (401s & 401)
8 point Brown Davis Alloy Roll Cage
Custom Dash Running a Full Compliment of VDO Gauges (Engine Water and Oil Temp, Engine Oil Pressure, Gearbox Oil Temp, Differential Oil Temp, Voltmeter, 0-8000rpm Tachometer [SpeedHut], Non-linear Fuel Gauge, 0-300kph Speedometer, Engine Hours)
External Gauges (under Scoop): VDO Mechanical Fuel Pressure, VDO Vacuum (Crankcase) and Digital WideBand AF Ratio
RPM Alloy Brake, Clutch and Accelerator Pedal Pads
4 point Total Harnesses (Driver & Passenger)
SAAS Europa Steering Wheel
Modified Transmission Tunnel
Hurst Billet Handle on Custom Gear Lever with Reverse Lockout
Approximately 33 years for ongoing transformation (June 1989 to present) and approximately $218,000
Purchased new in 1976 for $6,900 (roughly my annual gross salary in those days)
Car Owned, Financed & Enjoyed By Howard & Marilyn Bell, Residing in Metropolitan Melbourne, Victoria, Australia
Thanks to:
Nankervis Performance Boats P/LA&K Nankervis - Assembling Mk I, the original install and plumbing, supplying the Crower & Ferrea parts, Leo and Brad Nankervis for parts, advice and expertise assembling Mk III
AM Raceparts P/L (Alan & Mark) - fabrications, brake adaptions, full floater rear end, patience, etc, etc
Dave Biscan - engine bay and trim paintwork, engine bay metalwork
Peter Phillips - custom billet aluminium chassis plugs
Brown Davis Automotive (David) - Alloy tank and roll cage
Neil Burns - Putting together Mk II engine
CarShine (Gary Barker) - Wheels & tyres
Tom Coad - Edelbrock Performer RPM Cylinder head work for MKII
Dick at Performance Ignition (Scorcher) - distributor and plug leads
Eastside Auto Electrics (Victoria) (Ian Graham) - Concealed wiring and electrics
Rob Green - Body mods and paint work for the flare kit
Les Heintz - Jerico gearbox & clutch (c/o Eagle Spares Melb)
MoTeC (Richard Bendall & Peter) - advice, hardware and much needed help
Bruce Tyson- Brake hardware, brake plumbing etc
Mick Zahra - Chassis work
Preferred Services:
Nankervis Performance Boats P/L - hardcore engine parts and engine assembly
AM Raceparts P/L (Alan & Mark) - fabrications, brake adaptions, full floater rear ends, etc, etc
Brown Davis Automotive (David) - alloy tanks and roll cages
CarShine (Gary Barker) - Wheels & tyres
Les Heintz - Jerico gearbox & clutch (c/o Eagle Spares Melb)
Eastside Auto Electrics (Victoria) (Ian Graham) - concealed wiring and electrics, starter motors etc
JNT Performance - Aluminium Velocity Stacks , Donuts, Surge/Tanks, Turbo Bellmouths etc (Steve Weston)
Lovells Suspensions- rear springs and suspension bushes
King Springs- front springs
MoTeC (Richard Bendall & Peter) - advice, hardware & tuning
Neil Burns Developments - engine assembly
AXIS Trucks P/L - Len - power steering conversion
Dick at Performance Ignition (Scorcher) - for all ignition requirements
Bruce Tyson- Engine building, race car preparation guru



© Litre8 Productions 2021
---